Leftovers
by Josh Wilder • directed by Sydney Chatman
Athenaeum Theatre, Studio One • 2936 N Southport Ave, Chicago, IL 60657
Jalil and Kwamaine just want their family to be "Cosby Show happy," but that kind of life doesn't seem to be in the cards—until an enormous dandelion sprouts in front of their South Philly home and wishes start falling from the sky. Seizing the possibility of no longer feeling like the city's leftovers, the brothers begin to dream their way out of the cycle of poverty that has governed their lives, and find themselves on an adventure they never could have imagined.
This production of LEFTOVERS will feature a hazer and a strobe light effect.
Josh Wilder (Playwright) is a playwright from Philadelphia. His work has been developed and produced at various regional theaters and festivals across the country including The Fire This Time Festival, New York Theatre Workshop, True Colors Theatre Company, The Kennedy Center , Oregon Shakespeare Festival, 2015 O'Neill National Playwrights Conference, PlayPenn, Milwaukee Rep, Company One, and InterAct Theatre Company. Recent commissions include, LOVE'S LABOUR'S LOST for Play On! at Oregon Shakespeare Festival; and SHE A GEM for The Kennedy Center. He is the recipient of the Holland New Voices Award, The Lorraine Hansberry Award, and an ASCAP Cole Porter Prize. Josh is a former 2014 Jerome Fellow and the first national recipient of the 2015 Jerome Many Voices Fellowship at The Playwrights' Center. Josh has been in residence at The Royal Court Theatre in London; Sundance at UCross; and served as Co-Artistic Director at The Yale Cabaret for its 50th season. MFA: Yale School of Drama. Member of The Dramatist Guild.
Sydney Chatman (Director) is the 2019 Goodman Theatre Maggio Directing Fellow. Chatman is a director, educator, mentor, producer, writer, and founding director of The Tofu Chitlin' Circuit featuring the self-pinned and directed award-winning play, Black Girls (Can) Fly!
Ms. Chatman is an African-American Arts Alliance Award and 3Arts Make a Wave winner. Her credits include: New York: Tony Nominated-The Trip to Bountiful and a directing fellow with the Lincoln Centers Director's Lab. The Goodman Theatre: Associate Director for the World Premiere of How to Catch Creation, Assistant Director for Father Comes Home from the Wars Parts 1, 2, and 3, and Stage Management intern for Gem of the Ocean, Associate Director for The Last Wife (TimeLine Theatre Company), Assistant Director for Sunset Baby (TimeLine Theatre Company), Jitney (Court Theatre), St. James Infirmary (Congo Square Theatre Company), and Drip! (eta Creative Arts).
Rooted in her community, she passionately bridges the divide between the audience and the stage through creative theatrical performances and collaborations with the Adler Planetarium, Hyde Park Jazz Festival/Back Alley Jazz, The Reva and David Logan Center, Court Theatre and Victory Gardens Theatre.
In 2008 she created innovative programming called The A La Carte (a monthly thought-provoking theater discussion for South side audiences) and the Tuxedo Junction (community field trips to see plays and other artistic performances). She is a featured artist in Black Theater is Black Life; An Oral History of Black Theater in Chicago 1997-2000.
Chatman has been a theater leader; writing a theater directing blog, featured panelist at The Goodman Theatre and board member for the African-American Arts Alliance of Chicago. She is a community partner with the Green Line Performing Arts Center in the Washington Park neighborhood, an arts cohort member with the Community Program Accelerators with the University of Chicago. Sydney is also committed to servicing in her home town of Gary, Indiana as a committee member for the Gary International Black Film Festival.
Sydney has been a theater teacher for sixteen years, at the University of Chicago Charter School, where she writes and directs countless plays rooted in social justice and empowerment for the youth. Her arts integration has made her a mainstay in the arts education community and a unique voice in creating stories for Black children.
She is a champion for new work that seeks to support, challenge, empower, and make space for Black women and girls.
Jabari Khaliq (Jalil) Receiving his BFA in Acting at the University of Illinois at Chicago this May, Jabari is thrilled to jump into his first project since graduating. Previous productions he has taken part in are Three Sisters, florissant & canfield, and Intimate Apparel. Jabari is also proudly represented by Grossman & Jack Talent. He sends his love and thanks to his family both at home and at UIC along with the entire Something Marvelous team for supporting him and can't wait for what the future has in store!
Donovan Session (Kwamaine) feels marvelous about making his Something Marvelous debut! He is a graduate from the University of Oklahoma. Previous credits include Six Degrees of Separation, Surely Goodness and Mercy, (Redtwist Theatre) Everybody (Brown Paper Box Co.) and Queer Eye: the Parody Musical (Playground Theatre). Many thanks to God and the forces that be for allowing me to be a part of this production again. @slaysession
Elaine C. Bell (Raquelle) Recent theatre credits include Young Playwrights Festival (Pegasus Theatre), Eclipsed (US/Pegasus Theatre), Refrigerator (First Floor Theater), Frankenstein (Bower Theatre Ensemble) and Mavis; or a voyeurs comedy (The Residents). They have also worked with Sideshow Theatre Company, eta Creative Arts, LiveWire Chicago and Polarity Ensemble Theatre, just to name a few. Elainecbell.com
Vincent Banks (Dijon) was born and raised in Gary, Indiana. That is where he began writing and rapping rhymes in elementary school, acting in middle school, and performing standup comedy in high school. After his successful high school career as a Theatre major at Wirt/Emerson Visual and Performing Arts High Ability Academy, having been awarded class of 2013's "Best Actor", "Class Clown", and "Most Likely to Succeed" and serving as president of it's International Thespian Society Troupe, Vincent was accepted into The Theatre School at DePaul University where he earned a BFA degree in Acting, graduating in June of 2018. His favorite role to date is Venus in The Theatre School's 2017 production of Terell Alvin McCraney's "Wig Out!". In addition to constantly auditioning, performing, creating his own content, he is now operating a curiosity shop under his LLC, "Curio Coven". Not only that, but as studying and practicing an array of spiritual paths have become an integral facet of Vincent's life, he is working towards coalescing his metaphysical/mystical pursuits with his entertainment endeavors in order to dynamically serve all within our cosmic web. Vincent is proudly represented by Gray Talent Group!
Robert Von (Chris) is happy to be making his theatrical debut with Something Marvelous. He was last seen as Rick in The National Anthem and Larry in The Plea for Jackie Taylor's Anti-Racism Drama Series at Northeastern Illinois University. Von holds an MFA in acting from California State University, Fullerton. He has taught acting and speech communication at: Cal State Fullerton, Norco College, and Chicago State University. Commercial/Film credits are: Kmart's Last Minute Gifts and Not the Child I Raised. Theater credits include: The Doppelgänger: An International Farce (Steppenwolf), Hatfield & McCoy (The House Theater), Choir Boy (Raven Theater), Great Expectations (Remy Bumppo & Silk Road Rising), Skin for Skin (Agency Theater Collective), As You Like It (Citadel), To Kill a Mockingbird (Oak Park Festival), Mud, River, Stone (Eclipse), Darlin'(Step Up Productions), Bodies (MPAACT), and Ceremonies in Dark Old Men (eta) where he received the BTAA Best Featured Actor Award. Robert gives gratitude to the Most High for bestowing upon him artistic gifts to give back to the world.
Colin Jones (Cliff Huxtable) has been seen around town at a number of venues and dens of ill repute. He believes in the power of art to change people's life. He is pleased to be working with the good people at Something Marvelous and wishes everyone love, peace and enlightenment.
Malyk Singleton (Jalil u/s) is from the South Side of Chicago, raised from Garfield Blvd. He attends Chicago High School for the Arts, and his passion is rapping and acting. He has been acting since he was 11 years old and has played a lot of small roles. Something he really cares about is living and taking care of others through his lyrics and words. His dream is to tell the world the truth about the world.
Justin Walker (Chris u/s) is an actor/comedian who was born and raised in Ellenwood, GA but now calls Chicago home. Justin has appeared in plays throughout Chicago including Burf of a Nation and Black and Blue for MPAACT Theater.
Jessica Debolt (Stage Manager) is new to Chicago. She graduated from The Johnny Carson School of Theatre and Film in December of 2016 and has been wandering around the continental US ever since. First via road trip across the country living out of her truck, and then through Jobs. She stage managed at Hershey Park for a summer, and then spent a year at New Stage Theatre in Jackson MS where she stage managed Boy, and Steal Away. Leftovers is the first show Jessica is stage managing in Chicago and she couldn't be more delighted to be involved with such a wonderful production.
Adelina Feldman-Schultz (Casting Director) is a Chicago based Actor and Casting Director. She is a company member and ALTA Award nominated Casting Director of Firebrand Theatre. Adelina is a co-founder and now Director of the Chicago Theatre Access Auditions (www.ctaauditions.com). Chicago Credits: Teatro Vista, RhinoFest, Jackalope Living Newspaper Festival, Emerald City Theatre, The Other Theatre Company/Chicago Dramatists, Pride Films and Plays, and Erasing the Distance. VO: Ora on WBEZ's PleasureTown. Regional Credits: Maples Repertory Theatre, Old Creamery Theatre, Southern Colorado Repertory Theatre, Bower Street Theatre. She is proudly represented by Shirley Hamilton Talent.
Erin Nicole Gautille (Scenic & Properties Designer) is scenic and properties designer here in Chicago. Recent Chicago credits include Othello (Babes With Blades) Desiire in a Tiner House (Pride Film and Plays) Herland (Redtwist Theatre) Mike Pence Sex Dream (First Floor Theatre) Before moving back to Chicago she worked as a scenic designer and technical director for Cardinal Stage in Bloomington Indiana. She designed their productions of Rounding Third, The Lion the Witch and the Wardrobe and Robin Hood. She has also returned to her alma mater, Taylor University to design set for shows including The Amish Project and Cyrano De Bergerac. She is thrilled she has gotten to be a part of the magic.
Warren Levon (Sound Designer) is very excited to work with Something Marvelous on this very magical show. He would like to thank Emmi and Sydney for this opportunity to shine…and special thanks to Allyce Torres for being a great friend. Warren is greatly appreciative to his family for their love and support. Thank you for supporting the theatre, enjoy the journey! 1st (Corinth 15:10) God bless!
Jason Lynch (Lighting Designer) is a Chicago-based lighting designer for theatre, dance, opera, and other live performance art and makes his Something Marvelous debut with this production. Additional Chicago credits include Goodman Theatre, Haven Theatre, Chicago Shakespeare Theater, Steppenwolf Theatre Company, Red Theater Chicago, among others. Regional credits include Dallas Theater Center, Dallas Children's Theater, Denver Center for The Performing Arts, Alley Theatre, and Oregon Shakespeare Festival. He is honored to have his recent work on an immersive 360° production of The Wild Party at the Denver Center for the Performing Arts featured in American Theatre Magazine. He is also the recipient of the 2019 Michael Maggio Emerging Designer Award which recognizes emerging theatrical designers within the Chicago area. Jason is a proud member of The Association of Lighting Designers and alumnus of The Santa Fe Opera. www.jasondlynch.com
Cage Sebastian Pierre (Fight Choreographer) would like to thank Sydney Chatman for being a true collaborator, Josh Wilder for a beautiful play, the actors for their diligence and hard work, Something Marvelous for the commitment to new and exciting work, and finally you, the reader for taking the time to celebrate this story with us. Crafting the violence for this show has been a true testament to the value of having cultural specificity consciously woven into our stories. Ashe.
Evan Sposato (Technical Director) has spent the better part of the last two decades on and around the stage. When he isn't building scenery, he works with political campaigns on their programmatic digital outreach strategy. Evan lives in Evanston with his Christmas Cactus. This is his first show with Something Marvelous.
This program is partially supported by a grant from the Illinois Arts Council Agency through federal funds provided by the National Endowment for the Arts.
LEFTOVERS is supported in part by The Saints.
Earlier This Season:
Night of New Works: Reflections
Join us…
In a cup of tea. In a bit of inclement weather. Something glimmering in a mirror. We encounter the most stunning and startling visions everyday. Our annual Night of New Works debuts 6 short plays by 6 playwrights, ready to show you a glimpse of yourself (or something else) you didn't expect...
October 16, 2018 at 7:30pm
The Edge Theater • 5451 North Broadway, Chicago, IL 60640
HOME BREW
by J. Joseph Cox
directed by Heather Bodie
featuring Brian Huther and Justine C. Turner

SKY DANCE
by Maday Favela
directed by Debbie Baños
featuring Abigail Piñon, Dani Mauleon, Ricardo Melendez, and Cristy Calderon

LOOKS LIKE RAIN
by Maeli Goren
directed by Cary Shoda
featuring James Munson, Valentina Fittipaldi, Harmony Zhang, and Dwight Sora
GAWI
by Nina Ki
directed by Cage Sebastian Pierre
featuring Dyllan Rodrigues-Miller, Kim Fukawa, Dwight Sora, and Ayana Strutz

EL PICO
by Nancy Garcia Loza
directed by Ana Velazquez
featuring Wendy Mateo, Ilse Zacharias, and Jazmín Corona

CONQUERORS
by Shannon Pritchard
directed by Claire Reinhart
featuring Alex Dauphin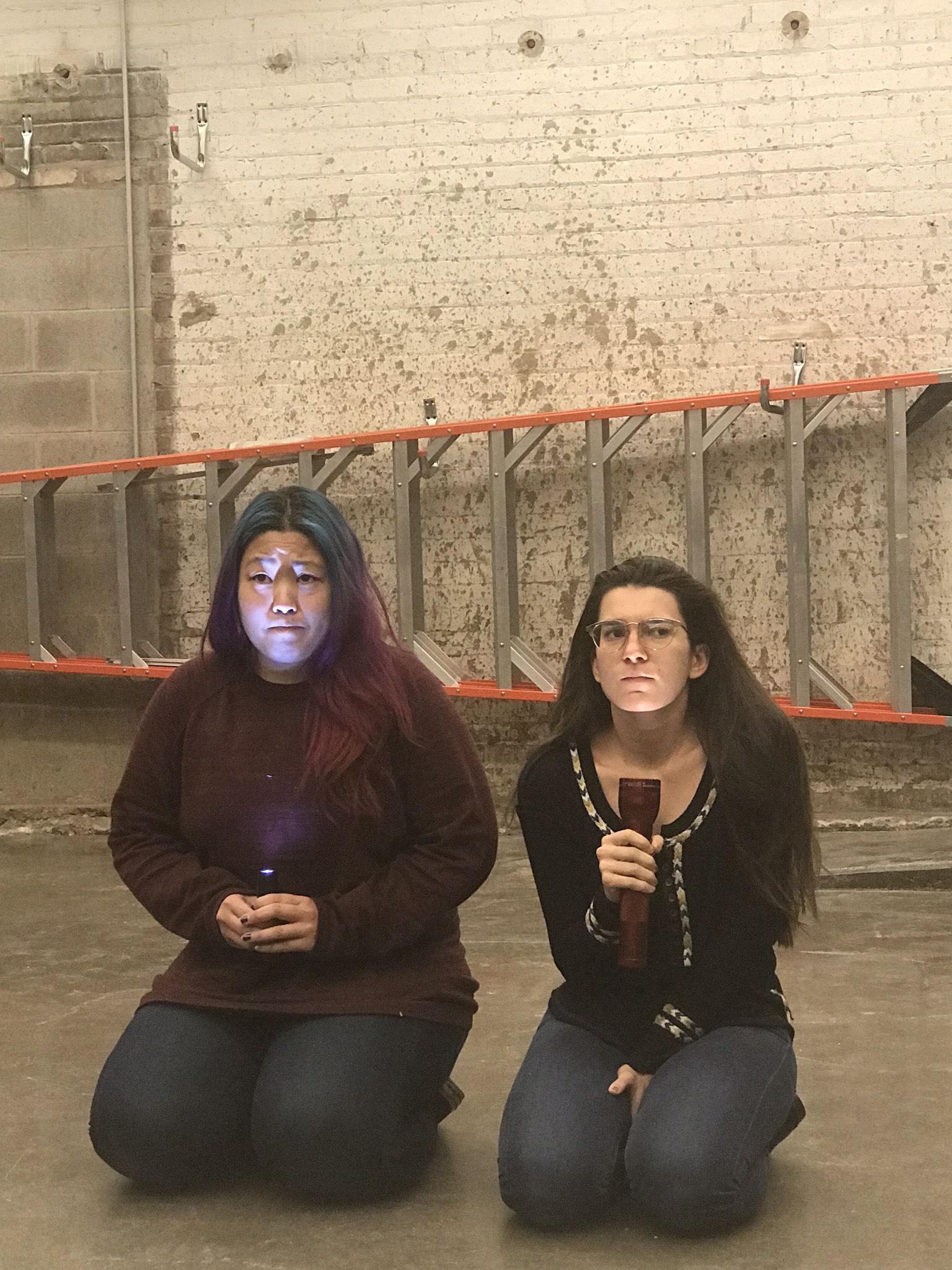 Workshop Series
Tale of the Lychee Woman
by Tsehaye Geralyn Hébert • directed by Ilesa Duncan
April 15, 2019 at 7pm
Green Line Arts Center • 329 E Garfield Blvd, Chicago, IL 60637
Free & Open to the public
Escaping high up the Lychee Woman's branches, the giant tree in her grandmother's yard, provides solace to twelve-almost-thirteen-year-old MNO Boucheron. Dougeut Boucheron wants to get his family resettled; his tour of duty in Vietnam started and finished. Evette wants to hang onto every moment with her husband until he returns. All Lynette, their rebellious daughter wants is to go to California and college as planned. Their matriarch's health failing, their relocation plans scuttled, they are stuck in the small town they vowed never to return. As already fragile MNO's world disintegrates, she becomes more and more a part of Miss Lychee.
Tale of the Lychee Woman explores war – the one fought in their tiny Civil Rights era town and the one fought in Vietnam. It explores secrets and the price we all pay when we choose to follow our paths.
The Storyteller
by Sara Jean Accuardi • directed by Claire Reinhart
April 22, 2019 at 7pm
Vagabond School of the Arts • 4001 N Ravenswood Ave #504, Chicago, IL 60613
Free & Open to the public
17-year-old Randi has lived off the grid with her father on a decrepit houseboat for as long as she can remember. She knows not to question things, but though she's been taught that the world of average people is fake, hollow, and brimming with things that will damage her spirit, she can't help but yearn for what she sees in the glossy pages of the teen magazines she keeps carefully stashed away. When Spencer, a local college student, stumbles into Randi's story, the narrative begins to change as long-hidden truths start to surface.
The Storyteller is a riff on The Tempest that explores the magic and power of the stories we tell ourselves.